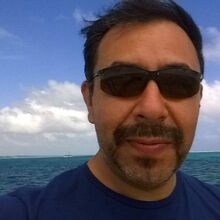 Raúl Solo (born on September 25) is a Mexican voice actor and radio locator who provides voices in the Latin American dub of Thomas and Friends.
He is better known for being the voice Jeff Letrotski in "My Little Pony: Friendship is Magic", Patchy Drizzle in "The Loud House", and Baxter Stockma in the 2012 "Teenage Mutant Ninja Turtles" animated series.
Voices
Trivia
He, Alan Prieto, Yehonatan Magon, Javier Olguín, Ricardo Bautista, Tim Kreuer, Mia Kadosh, Józef Pawłowski, Gadi Levy, Tzvika Shwartzberg, Shōto Kashii, Hiroshi Tsuchida, Talya Barkay, Elise Langenoja and Sukekiyo Kameyama all worked on the 2012 "Teenage Mutant Ninja Turtles". There have also been several other people that have worked on other parts of the franchise:

Hiroko Emori, Rainer Schmitt, Daiki Nakamura, Hideyuki Umezu, Dariusz Odija, Håkan Mohede, Herman López, Achim Schülke, Reinder van der Naalt, Luis Alfonso Mendoza, Toshiharu Sakurai, Jorge Santos, Marion von Stengel, Masayuki Omoro, Simcha Barbiro, Kiyoyuki Yanada, Tomohiro Nishimura, Bin Shimada, Talya Barkay ("again"), Hidenari Ugaki, Gérard Boucaron, Kenji Utsumi, Naoki Tatsuta, Kiyonobu Suzuki and Jorge Roig ("the 1987 version").
Hidenari Ugaki (again), Yohei Nishina, Jan-David Rönfeldt, Stig Krogstad, Samuel Harjanne, Tokuyoshi Kawashima, Kiyonobu Suzuki, Kunihiro Kawamoto, Denis Bespalyy, Ryūji Nakagi, Saar Badishi, Daisuke Gōri, Takafumi Kawakami, Tzvika Shwartzberg, Shōto Kashii, Santiago Ziesmer, Kenji Utsumi and Dariusz Odija ("again") ("the 2003 version").
Helmut Krauss, Yehonatan Magon ("again"), Tokuyoshi Kawashima, Piotr Bajtlik, César Árias, Karina Altamirano, Pasi Ruohonen, Caspar Phillipson, ("again") Alan Prieto, Oliver Rohrbeck, Toshiharu Sakurai ("again"), Víctor Ugarte, Albert Cohen, Mireya Mendoza and Yigal Mizrachi ("the films").

He, Analiz Sánchez, Mikołaj Klimek, Héctor Moreno, Enrique Cervantes, Susana Moreno, Michał Podsiadło, Claudia Motta, Javier Olguín, Simen Sand, Klaudiusz Kaufmann, Justyna Bojczuk, Anna Gajewska, Ricardo Silva, Carlos Hernández, Ewa Serwa, Loretta Santini, Irina Índigo, Zbigniew Konopka, Isabel Romo, Zuzanna Galia, Kim Seung-jun, Grzegorz Kwiecień, Jacek Król, Benedikte Kruse, Eduardo Fonseca, Annie Rojas, Sergio Morel, Elsa Covián, Julia Kołakowska-Bytner, Susa Saukko, Kenta Miyake, Joanna Pach-Żbikowska, Moisés Iván Mora, Mia Kadosh, Masashi Ebara, Igor Cruz, Norma Iturbe, Petri Hanttu, Hiroshi Iwasaki, Anna Apostolakis, Tiril Heide-Steen, Przemysław Stippa, Markus Bäckman, Leszek Zduń, Janusz Wituch, Talya Barkay, Edson Matus, Paweł Szczesny, Gerald Schaale, Leyla Rangel, Piotr Bajtlik and Tesshō Genda have all starred in "My Little Pony: Friendship is Magic".
"Welcome to the Steamworks, my friend!"

This article is a stub. You can help by expanding it.