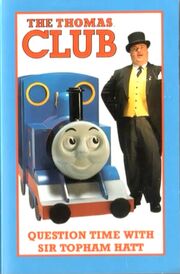 Question Time with Sir Topham Hatt is a special audio cassette first released in 1998 and re-released in 2000. It was distributed by Britt Allcroft Ltd. for Robell Club and was exclusive to Thomas fans who joined the Thomas Club. The cassette features the Fat Controller replying to some questions from children and one song.
Question Episodes
Song
Goofs
Gallery
Ad blocker interference detected!
Wikia is a free-to-use site that makes money from advertising. We have a modified experience for viewers using ad blockers

Wikia is not accessible if you've made further modifications. Remove the custom ad blocker rule(s) and the page will load as expected.