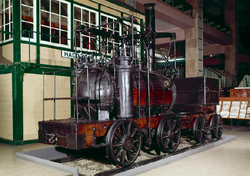 Puffing Billy
Builder: William Hedley, Jonathan Forster and Timothy Hackworth
Built: 1813-14
Gauge: 5ft
Configuration: 0-8-0
Puffing Billy is one of the early built steam locomotives from the Science Museum.
Bio
Puffing Billy was built in 1813 and completed a year later for Christopher Blackett of the Wylam Colliery to replace horses from the tramways. The engine remained in service until 1862, when Edward Blackett lent it to the Science Museum in London.
The engine later appeared in Hashire! The "Thomas the Tank Engine and Friends" Steam Locomotive is Alive!, where he tells host Gaku Hamada about steam locomotives.
Voices Actors
Ad blocker interference detected!
Wikia is a free-to-use site that makes money from advertising. We have a modified experience for viewers using ad blockers

Wikia is not accessible if you've made further modifications. Remove the custom ad blocker rule(s) and the page will load as expected.