"I remember the days on my old line, when some of the big engines like Gordon were named after horses, which had won a race called the Derby. Lemberg was one, and Pretty Polly was another. What a silly name for an engine!"
— The Elderly Brake Van, Galloping Sausage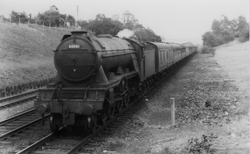 Pretty Polly
Number: 60061, formerly 2560 and 61
Class: LNER A3 Pacific, originally LNER A1 Pacific
Designer: Sir Nigel Gresley
Builder: LNER Doncaster Works
Built: April 1925, rebuilt May 1944
Retired: September 1963
Configuration: 4-6-2
Top Speed: 108 mph (174 km/h)
Pretty Polly was an LNER A3 mentioned by the Elderly Brake Van in the annual story, Galloping Sausage. She was named after a female racehorse; the van commenting that it was a silly name for an engine.
Built in April 1925, after entering service in April as an A1 class locomotive, she was converted to an A3 in May 1944. Originally numbered 2560, she was later renumbered 61, becoming 60061 under British Railways. She was withdrawn in September of 1963 and scrapped soon afterwards. She was also one of Gordon, Lemberg, and the Flying Scotsman's sisters as well as a cousin of Green Arrow, Mallard, Spencer, and The Flying Thistle.
Appearances
Ad blocker interference detected!
Wikia is a free-to-use site that makes money from advertising. We have a modified experience for viewers using ad blockers

Wikia is not accessible if you've made further modifications. Remove the custom ad blocker rule(s) and the page will load as expected.