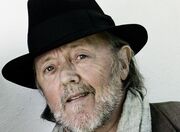 Povl Dissing (born on 27 January 1938) is a musician who narrated the Danish version of Thomas & Friends. He narrated from the first season to the fourth season. He returned for the eighth season and later left after the sixteenth season. He has also worked as a narrator for  "Theodore Tugboat". Lars Mikkelsen took his place from the seventeenth season onwards.
"Welcome to the Steamworks, my friend!"

This article is a stub. You can help by expanding it.
Ad blocker interference detected!
Wikia is a free-to-use site that makes money from advertising. We have a modified experience for viewers using ad blockers

Wikia is not accessible if you've made further modifications. Remove the custom ad blocker rule(s) and the page will load as expected.