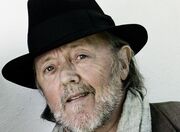 Povl Dissing (born on 27 January 1938) is a musician who narrated the Danish version of Thomas & Friends. He narrated from the first season to the fourth season. He returned for the eighth season and later left after the sixteenth season. He was replaced by Lars Mikkelsen.
Ad blocker interference detected!
Wikia is a free-to-use site that makes money from advertising. We have a modified experience for viewers using ad blockers

Wikia is not accessible if you've made further modifications. Remove the custom ad blocker rule(s) and the page will load as expected.