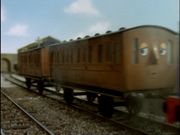 Poor Old Percy is a short ditty Annie and Clarabel made up to tease Percy in the fifth season episode, Put Upon Percy.
Lyrics
Percy's been put upon,
Put upon, put upon.
Percy's been put upon.
Poor old Percy (UK only: - tee hee hee hee hee!)
Trivia
Music plays during the song in the US and various international narrations; this is absent in the UK narration.