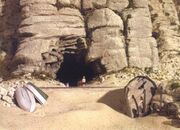 Pirate's Cove is situated along the coast across the bay from Brendam. Centuries ago, pirates buried their treasure inside nearby caves after their voyages to Sodor.
The Sodor Maritime Museum is located nearby.
It appeared in the tenth season episode, Thomas and the Treasure and the eleventh season episode, Thomas and the Storyteller.
Ad blocker interference detected!
Wikia is a free-to-use site that makes money from advertising. We have a modified experience for viewers using ad blockers

Wikia is not accessible if you've made further modifications. Remove the custom ad blocker rule(s) and the page will load as expected.