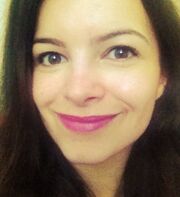 Pippa Shaw wrote the 2011 Annual for Egmont Publishing. Before working for Egmont, she worked as a marketing assistant for Usborne Publishing and as an assistant editor for Parragon. In 2008, she joined Egmont Publishing as an editor and proofreader before leaving in 2011 to work as an editor for Nickelodeon. Since leaving Nickelodeon, she has become a freelance editor and writer.
"Welcome to the Steamworks, my friend!"

This article is a stub. You can help by expanding it.
Ad blocker interference detected!
Wikia is a free-to-use site that makes money from advertising. We have a modified experience for viewers using ad blockers

Wikia is not accessible if you've made further modifications. Remove the custom ad blocker rule(s) and the page will load as expected.