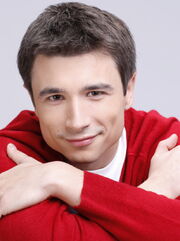 Piotr Bajtlik (born on March 4th, 1982 in Myslowice) is a Polish voice actor who provides voices for the Polish dub of Thomas & Friends.
He is best known for voicing Emmet from "The Lego Movie", Nico from the "Rio" series, Gene Khan from "Iron Man: Armored Adventures", Mike from the "Total Drama" series, Leonardo from Michael Bay's "Teenage Mutant Ninja Turtles" film, Max McGrath from the 2013 "Max Steel" series, Marcus from "Pokémon: Arceus and the Jewel of Life", and Mordecai from "Regular Show".
Voices
Trivia
External link
"Welcome to the Steamworks, my friend!"

This article is a stub. You can help by expanding it.
Ad blocker interference detected!
Wikia is a free-to-use site that makes money from advertising. We have a modified experience for viewers using ad blockers

Wikia is not accessible if you've made further modifications. Remove the custom ad blocker rule(s) and the page will load as expected.