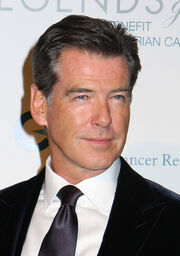 Pierce Brendan Brosnan, (born in Navan, County Meath, Ireland on May 16th, 1953) is a Golden Globe-nominated Irish actor who is best known for playing James Bond in four films from 1995 to 2002. Pierce narrated The Great Discovery as a special guest narrator. He had recorded lines for the twelfth season of the television series, but when the season aired, Michael Angelis and Michael Brandon remained the series' narrators. Had he stayed as narrator of the series, he would have narrated the twelfth to fourteenth seasons, as well as three specials. It is still unknown why he did not return.
Brosnan has stated he shares an interest and love of the characters, having read the stories with his children when they were young.
Filmography
Films

The Long Good Friday (1980)
The Mirror Crack'd (1980)
Nomads (1986)
Remington Steele: The Steele That Wouldn't Die (1986)
Taffin (1987)
The Fourth Protocol (1987)
The Deceivers (1988)
Mister Johnson (1990)
The Lawnmower Man (1992)
Live Wire (1992)
Mrs. Doubtfire (1993)
Entangled (1993)
Love Affair (1994)
GoldenEye (1995)
Mars Attacks (1996)
The Mirror has Two Faces (1996)
Robinson Crusoe (1997)
Tomorrow Never Dies (1997)
Dante's Peak (1997)
Quest for Camelot (1998)
The Nephew (1998) - also producer
Grey Owl (1999)
The World is Not Enough (1999)
The Match (1999) - also producer
The Thomas Crown Affair (1999) - also producer
The Tailor of Panama (2001)
Die Another Day (2002)
Evelyn (2002) - also producer
After the Sunset (2004)
Laws of Attraction (2004) - also executive producer
The Giant Seabass (2005) - also producer
The Matador (2005)
Seraphim Falls (2006)
Butterfly on a Wheel (2007) - also producer
Married Life (2007)
The Great Discovery (2008)
Mamma Mia! (2008)
The Greatest (2009)
The Ghost Writer (2010)
Percy Jackson and the Olympians: The Lightning Thief (2010)
Remember Me (2010)
Oceans (2010)
Salvation Boulevard (2011)
I Don't Know How She Does It (2011)
Bag of Bones (2011)
The True Confessions of Charlotte Doyle (2011)
The Topkapi Affair (2011)
Love is All You Need (2013)
The World's End (2013)
The Love Punch (2014)
A Long Way Down (2014)
The November Man (2014)
Some Kind of Beautiful (2015)
Survivor (2015)
No Escape (2015)
A Christmas Star (2015)
Urge (2016)
I.T. (2016)
The Foreigner (2017)
The King's Daughter (2017)
Final Score (2018)
The Only Living Boy in New York (2018)
Spinning Man (2018)

Television

Murphy's Stroke (1979)
Noble House (1988)
Around the World in 80 Days (1989)
The Heist (1989)
Murder 101 (1991)
Victim of Love (1991)
Death Train (1993)
The Broken Chain (1993)
Don't Talk to Strangers (1994)
Night Watch (1995)
The Simpsons: Treehouse of Horror XII (2001)
Thomas & Friends (original season 12 narration) (2008)
The Son (2017)
Major awards and nominations
Won - Golden Raspberry Award - Worst Supporting Actor, 2008, for "Mamma Mia!"
Nominated - Golden Globe for Best Performance by an Actor in a Motion Picture - Musical or Comedy, 2005, for "The Matador" - lost to Joaquin Phoenix for Walk the Line.
Trivia
He, Ringo Starr, George Carlin, and Alec Baldwin have hosted Saturday Night Live and made guest appearances on "The Simpsons".
He and Mara Wilson appeared in "Mrs. Doubtfire".
He appeared alongside John Gielgud and Francisco Colmenero in "Quest for Camelot".
He, Radovan Vaculík, Ringo Starr, Carlos Enrique Bonilla, Jorge Ornelas, Enzo Avolio, Víctor Delgado, Bohuslav Kalva, Daiki Nakamura, Aku Laitinen, Marjolein Algera, Jukka Voutilaninen, Shinobu Adachi, Pasi Ruohonen, Loretta Santini, Olga Hnidey, Don Nemitz, Bin Shimada, Reinder van der Naalt, Ángel Amorós, Gerardo Reyero, Luis Alfonso Padilla, Octavio Rojas, Louise Raeder, Humberto Vélez, Hadar Shachaf Ma'ayan, Chie Kōjiro, Samuel Harjanne, Keiko Toda, George Carlin and Alec Baldwin all worked on "The Simpsons".
He and Hugh Bonneville both worked on the James Bond film "Tomorrow Never Dies". Nicola Stapleton has also appeared in the James Bond film "Octopussy".
He and Darren Boyd both appeared in "The World's End".
He is the first narrator who didn't narrate any classic series episodes of Thomas and Friends.
Gallery
External Links
Ad blocker interference detected!
Wikia is a free-to-use site that makes money from advertising. We have a modified experience for viewers using ad blockers

Wikia is not accessible if you've made further modifications. Remove the custom ad blocker rule(s) and the page will load as expected.