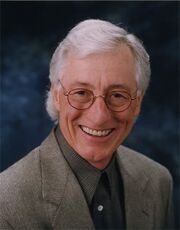 Philip D. "Phil" Fehrle is an American producer and screenwriter.
He was an episode writer and producer for Thomas and Friends, who started working on the series as a producer for Thomas and the Magic Railroad. He replaced Britt Allcroft and David Mitton as producer, though Mitton remained as director. He was also a script consultant during the seventh season. He created the spin-off series Jack and the Sodor Construction Company.
He was replaced by Simon Spencer when the series switched hands under HiT Entertainment. He worked on the show from 1999–2004.  He is currently selling cars at Boulevard Buick.
Andreas Fehrle is his son.
He has produced such shows as "CHiPs", "The Quest", "Vega$", "Eight Is Enough", "Police Story", "Beach Patrol" and movies such as "Charlton Heston Presents the Bible", "The Whipping Boy", "Curacao", "The Little Kidnappers", "Dennis the Menace", "Lone Star Bar & Grill" and "Lots of Luck".
Episodes Written
These episodes were co-written with Abi Grant and Jonathan Trueman.
Producer
Seasons
Movie
Gallery
External links
Ad blocker interference detected!
Wikia is a free-to-use site that makes money from advertising. We have a modified experience for viewers using ad blockers

Wikia is not accessible if you've made further modifications. Remove the custom ad blocker rule(s) and the page will load as expected.