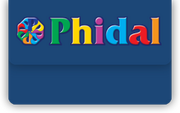 Phidal Publishing is a Canada-based company founded in 1979 by the Soussan family. The company originally started publishing novels and reference guides, then children's storybooks and activity books from various brands, including Dreamworks, My Little Pony, Scooby Doo, Hello Kitty, and Disney.
Their goal is to both educate and entertain children by engaging their imaginations.
They publish various Thomas and Friends activity books in the UK and US.
Books
Releases Gallery
External link