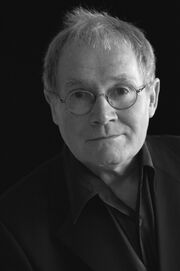 Peter Weis-Briel (born in Bremen) is a German actor and voice actor who voices characters in the German dub of Thomas and Friends.
He has appeared in various theatre shows in Germany, but is also known for performing voiceovers for radio plays and audiobooks such as Pascal Mercier's "Night Train to Lisbon", Gilbert Keith Chesterton's "Father Brown", Arthur Conan Doyle's "The Lost World", Agatha Christie's "The Pale Horse" and Robert Louis Stevenson's "The Strange Case of Dr Jekyll and Mr. Hyde". He is also known for voicing Paulie 'Walnuts' Gualtieri from "The Sopranos", Danzo Shimura from "Naruto: Shippuden", Grandpa Lou Pickles from "Rugrats", Old Puffer Pete from "Chuggington", various characters from "Bob's Burgers" and Archibald from the "Arthur and the Invisibles" series.
Voices
Trivia
Both he and Albert Cohen voiced Archibald from the "Arthur and the Invisibles" series in their respective languages.
He, Christian Stark, Lennardt Krüger, Christian Rudolf, Tobias Schmidt, Fabian Harloff, Martin May, Robert Kotulla, Konstantin Graudus, Merete Brettschneider, Tim Kreuer, Oliver Böttcher, Robert Missler, Patrick Bach, Jürgen Holdorf, Jan-David Rönfeldt, Joshy Peters, Sascha Draeger, Michael Bideller, Joey Cordevin, Christos Topoulos, Volker Hanisch, Nils Rieke, Henning Nöhren, Rainer Schmitt, Jens Wendland and Jesse Grimm worked on "Naruto".
He, Kai-Henrik Möller, Matthias Klimsa, Anne Moll, Jörg Gillner, Robert Missler, Martin May, Volker Hanisch, Jürgen Holdorf, Robin Brosch, Bernd Stephan, Christian Rudolf, Angela Quast, Achim Schülke, Burkhard Schmeer, Oliver Warsitz, Constantin von Westphalen, Patrick Bach, Holger Mahlich, Margrit Strassburger, Dagmar Dreke, Robert Kotulla, Tobias Schmidt, Sascha Draeger, Lennardt Krüger, Joey Cordevin, Achim Buch, Simona Pahl, Fabian Harloff, Konstantin Graudus, Walter Wigand, Sonja Stein, Jan-David Rönfeldt, Michael Bideller, Tetje Mierendorf, Henry König, Christos Topoulos, Holger Potzern, Till Huster, Marion von Stengel, Eberhard Haar and Christian Stark all had roles in "McLeod's Daughters".
He, Brettschneider, Kreuer, Missler, Johannes Semm and Tobias Diakow provided voices in "Angelo Rules".
Weis, Schülke, Bach, Haar, Bideller, Pahl, Graudus, Schmidt, Klimsa, Missler and Hanisch had roles in "The Great Train Robbery".
He, Konstantin Graudus, Jesse Grimm, Sascha Draeger, Joshy Peters, Johannes Semm, Simona Pahl, Robin Brosch, Patrick Bach, Marion von Stengel, Robert Missler, Volker Hanisch, Oliver Böttcher, Holger Mahlich, Achim Schülke, Tobias Diakow, Tobias Schmidt, Tim Kreuer, Nadine Schreier, Kristina von Weltzien, Fabian Harloff and Robert Kotulla all had roles in "Bob's Burgers".
External link
Ad blocker interference detected!
Wikia is a free-to-use site that makes money from advertising. We have a modified experience for viewers using ad blockers

Wikia is not accessible if you've made further modifications. Remove the custom ad blocker rule(s) and the page will load as expected.