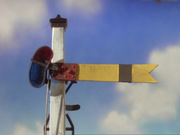 While not officially named, Percy's Victory Song is the song Percy's fireman sang to celebrate Percy's defeat of Harold in a race. Percy enjoyed the song immensely, especially the last line.
Lyrics
Said Harold the Helicopter to our Percy, "You are slow!
Your railway is out of date, and not much use you know!"
But Percy and his stone trucks/cars did the trip in record time,
And we beat the helicopter on our old branch line!
Trivia
The tune is from "Miss Polly Had A Dolly".
A song sheet of this tune was featured in early editions of Percy the Small Engine and in a Railway Series compilation book.
In the Japanese version, most of the music is omitted.
Gallery
Ad blocker interference detected!
Wikia is a free-to-use site that makes money from advertising. We have a modified experience for viewers using ad blockers

Wikia is not accessible if you've made further modifications. Remove the custom ad blocker rule(s) and the page will load as expected.