"...and every year on the date of the accident it runs again, as a warning to others, plunging into the gap, shrieking like a lost soul!"
— Percy, Ghost Train, Tramway Engines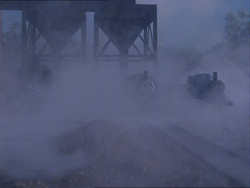 Percy's Ghost Engine
Percy's Ghost Engine was referenced in a story that Percy told Thomas and Toby, which his driver told him the night before. However, Thomas refused to believe him and Percy's driver confirmed to him that the ghost was on television. Percy could not help but feel disappointed.
When Percy crashed into a cart of lime, a signalman remarked that Percy looked like a ghost. This gave Percy an idea to scare Thomas. With the help of Toby, they convince Thomas that Percy had crashed and returned as a ghost, thus scaring Thomas out of the shed. Later, Toby jokingly told Percy that Thomas had seen a ghost.
Basis
In the television series, the Ghost Engine uses Percy's model covered in white streamers.
Appearances
The Ghost Engine also appeared in the sixth season song, Boo! Boo! Choo-Choo.
Percy's Ghost Engine also appeared in sixth season songs.
Gallery