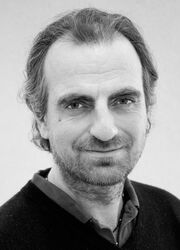 Paul Ottar Haga (born on July 30th, 1965) is a Norwegian actor who voices characters in the Norwegian dub of Thomas & Friends.
Some of his roles include Mr. Ray from "Finding Nemo", Rattlesnake Jake from "Rango", Toa Tahu from "Bionicle: Mask of Light", Sloan Blackburn from "The Wild Thornberrys Movie" and Captain Haddock from "The Adventures of Tintin: Secret of the Unicorn".
Voices
Trivia
"Welcome to the Steamworks, my friend!"

This article is a stub. You can help by expanding it.