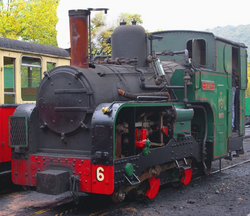 Padarn
Number: 6
Primary function: Passenger service
Built: 1922
Configuration: 0-4-2T
Padarn, named after the lower lake at Llanberis - but previously Sir Harmood, after the chairman of the Snowdon Mountain Railway, Sir John Sutherland Harmood Banner - is the sixth engine operating on the Snowdon Mountain Railway. Padarn was built at the Swiss Locomotive and Machine Works in Winterthur, Switzerland in 1922.
Patrick is based on her.
Livery
Padarn is painted green with red lining.
Gallery
Ad blocker interference detected!
Wikia is a free-to-use site that makes money from advertising. We have a modified experience for viewers using ad blockers

Wikia is not accessible if you've made further modifications. Remove the custom ad blocker rule(s) and the page will load as expected.