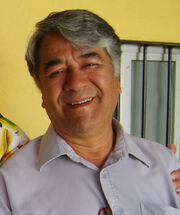 Paco Mauri (born on November 12th, 1945 as Francisco Gonzáles Ramírez) is a Mexican voice actor who joined the Latin American voice cast of Thomas and Friends in the twentieth season.
He is most famous for his roles as Grem from "Cars 2", Jirayia from "Naruto", Totosai from "InuYasha", Curt Connors from "Spider-Man: The Animated Series", and the Wiseman from "Sailor Moon". He is also a recurrent dubbing voice of Eugene Levy.
Voices
"Welcome to the Steamworks, my friend!"

This article is a stub. You can help by expanding it.
Ad blocker interference detected!
Wikia is a free-to-use site that makes money from advertising. We have a modified experience for viewers using ad blockers

Wikia is not accessible if you've made further modifications. Remove the custom ad blocker rule(s) and the page will load as expected.