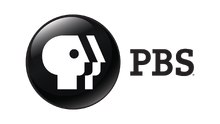 PBS, (or The Public Broadcasting Service) is an American public broadcaster and television programme distributor made up of more than 350 member television stations. PBS is an independently operated non-profit organisation, headquartered in Arlington, Virginia, US.
It has aired Shining Time Station (starting on January 29th, 1989), along with other kids shows. Its primary fundraiser is the Corporation for Public Broadcasting. It began airing Thomas & Friends in its normal form under the PBS Kids banner in 2004 using the airings from Nick Jr. UK, redubbing it with Michael Brandon's narration and starting the airings with Season 8 paired with a Season 7 episode in each airing. Thomas & Friends currently airs on PBS in the United States on weekends. In 2011, Thomas started coming more often on weekdays airing Season 10 to CGI Seasons more often. On May 15th, 2013, PBS Kids announced that Thomas & Friends would moved to the daily schedule on weekdays that started on October 7th, 2013 when Season 17 premiered, due to an increase in ratings of nearly 110 million households. The model airings stopped airing on September 2013, airing the CGI Series more often. A microsite was added on the PBS Kids website as well. An Underwriting spot was added on September 21, 2013 with the narrator of Thomas & Friends, Mark Moraghan announcing it.
PBS Kids Sprout started to release Thomas on On-Demand Comcast on April 4th, 2005 and September 13th, 2005 on TV. PBS Kids Sprout starting with Seasons 1-7 and started airing Seasons 11-15 in 2011. They aired restored versions of Season 1-4 and aired most of the entire classic series as individual episodes for the first time in the US. Thomas sadly stopped airing on Sprout in autumn 2015 to make way for more original programming. They also aired other HiT Entertainment shows such as Bob the Builder, Barney and Fireman Sam.
Gallery
Logos
Advertisement