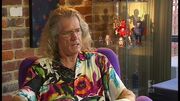 Owen Bell (also known as Owain Bell) has illustrated various Thomas books, video cases, various merchandise packaging, and posters from 1986 to 1996. He also provided the illustrations for all of the jigsaw puzzles during that period.
He currently lives in Yanchep, Western Australia. His main interest now is creating digital images for which he has won awards. He has Asperger's Syndrome, an autism spectrum disorder, which he believes has helped him to produce his award winning artwork, as these require intense concentration and attention to detail.
In addition to this, he developed a series of scripts for a Tintin like show called "Sentinels Of Sol". He has written 53 scripts over 15 years.
Trivia
The real spelling of his name is "Owen". He used the Welsh spelling when working on Thomas the Tank Engine and Friends on a whim. When he was no longer needed to illustrate Thomas merchandise, he reverted to the normal spelling.
Many of Bell's illustrations were used on early Japanese VHS tapes of Thomas the Tank Engine and Friends. After the name board sequences, an illustration would be displayed before the next episode begins.
Gallery