This article is about the character. You may be looking for the illustrator.
"Next stop - you're too heavy!"
— Owen with Thomas and Luke on his platform, Blue Mountain Mystery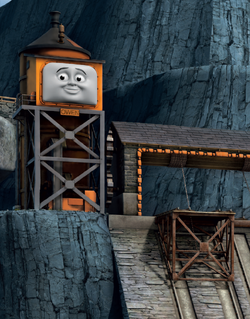 Owen
Owen is an incline traction engine.
Persona
Owen is an enthusiastic incline engine, based on a vertical traction boiler, housed at the top of the incline at the Blue Mountain Quarry. From high up above the quarry floor, he gamely takes great pride in his job and never tires in the overseeing of empty slate trucks up the incline, while sending loaded ones down, often announcing the transportation of cargo as he moves it between terraces. He likes to maintain steady, safe operation throughout the quarry and enjoys ensuring everything is running as it should. He is keen to help any engine about their work and make sure everyone is on track.
Appearances
Specials:
Voice Actors
Trivia
According to totallythomas.com, Owen may have been called "Bud", although his name was changed to Owen for unknown reasons. The same website also inaccurately refers to him as a crane.
Merchandise
Gallery
Merchandise Gallery