Other Mid Sodor Railway Engines
Comment

1
5,465pages on
this wiki
Albert
Jim
Tim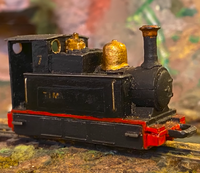 Jerry
The Mines Engine
(either Atlas or Alfred)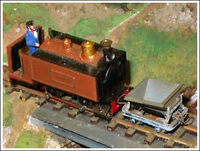 The Unnamed Red Engine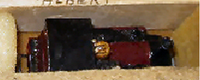 There were two versions of the Mid Sodor Railway layout.
On the first, there were six previously unnamed engines:
Albert
Jerry
John
Jennings
Atlas and Alfred (the Mines Engines)
On the second there were six engines (two from the earlier layout):
Albert (different from above)
Jim
Tim
Jerry (same as above)
The Mines Engine (either Atlas or Alfred)
The Unnamed Red engine
They are all narrow-gauge engines who worked on the Mid Sodor Railway. These engines never appeared in any stories, but appeared on the Reverend W. Awdry's model layouts of the Mid Sodor.
Basis
Albert (original): A Minitrains Baldwin modified into an 0-6-0.
Albert (new): Falcon Hughes loco in original Corris Railway condition, like Sir Handel; original Mid Sodor #3.
Tim: Gem Vari-kit; freelance. He was built, by Awdry, as a generic tram locomotive.
Jim: Based upon the same kit as Tim, but modified to look like a Kerr Stuart Skylark locomotive.
The mines engines, Atlas and Alfred: Modelled on the Jouef Decauville 0-4-0PT.
Jerry: Based upon Peco's kit for a freelance locomotive, Jeanette which itself is based upon the Andrew Barclay locomotive "Doll".
John: A Peco James kit.
Jennings: Another Peco James kit; modified into an 0-4-0.
Livery
Albert is painted blue, Jim green, Tim black with a gold dome, Jerry green with a gold dome, and the Mines Engines brown.
Gallery