Orange Branch Line Coaches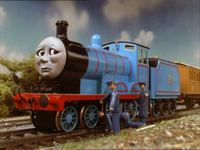 Red Branch Line Coaches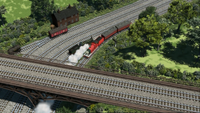 There are two types of Branch Line Coaches on the North Western Railway.
There were a number of orange four-wheeled coaches used on secondary and branch line services. They were usually pulled by Edward, Henry and James. Annie and Clarabel seem to be the only orange coaches left.
In the television series, the red coaches are usually pulled by Duck and Oliver on their branch line or by Edward on his branch line, but are also used by Henry and James on the Main Line. They were also pulled by Stepney on his branch line.
Basis
The branch line coaches are based on LBSCR Stroudley four-wheel coaches. Annie and Clarabel are also members of this basis. 
Appearances
The orange coaches only appeared in the first and second seasons, however they were also seen in a Learning Segment. The red coaches appeared in every season from the second onwards.
Voice Actors
Trivia
In the annual story, Pantomime Pranks, one of the orange branch line coaches was painted green. In the magazine story, Rain or Shine, one of the orange branch line coaches was painted yellow.
In Hero of the Rails and The Lion of Sodor, one of the red branch line coaches is painted brown. Coaches painted blue, green, yellow, orange, black, and white were featured in a game on the Official Website.
The orange branch line coaches resemble Annie and Clarabel .
Merchandise
Gallery
Merchandise Gallery