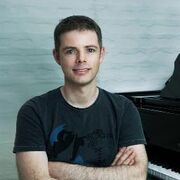 Oliver Davis (born 1972) is an English composer, pianist and singer based in Soho. He composed the songs for The Great Race and Journey Beyond Sodor. He is also the founder of We Write Music and the composer for the Landmarks of Sodor DVD segments. He was also the song producer for Journey Beyond Sodor.
He also works on "Fireman Sam".
Songs
Songs Performed
Songs Composed
Trivia
External Links
Gallery
"Welcome to the Steamworks, my friend!"

This article is a stub. You can help by expanding it.
Ad blocker interference detected!
Wikia is a free-to-use site that makes money from advertising. We have a modified experience for viewers using ad blockers

Wikia is not accessible if you've made further modifications. Remove the custom ad blocker rule(s) and the page will load as expected.