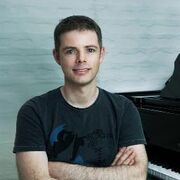 Oliver Davis (born 1972) is an English composer, pianist and singer based in Soho. He composed the songs for The Great Race and Journey Beyond Sodor. He is also the founder of We Write Music and the composer for the Landmarks of Sodor DVD segments. He was also the song producer for Journey Beyond Sodor.
His other credits include "Fireman Sam".
Songs
Songs Performed
Songs Composed
Trivia
He and Wip Vernooij both worked on the 2007 short film "Over the Hill".
He, Laura Beaumont, Paul Larson, Lizzie Ennever, Teresa Gallagher, Rob Rackstraw and Jules de Jongh all worked on "Poppy Cat".
He and Andrew Brenner both worked on "The Likeaballs".
He and Rob Rackstraw both worked on "Metalheads".
He, Andrew Brenner, Denise Green, Marion Edwards and Salty's Lighthouse actor Ian James Corlett all worked on "The Cramp Twins".
He, Albert Cohen, John Hasler, Steven Kynman, Laura Beaumont, Paul Larson, Lee Pressman, Miranda Larson, Christopher Keenan, Karen Davidsen, Karen Barnes, Karen Davies, Marion Edwards, Christopher Skala, Lenora Hume, Sam Barlow, Andrew Brenner, Dave Ingham, Simon Nicholson, Jan Page, Jocelyn Stevenson, Ian McCue, Sharon Quick, Pete Atkin, Fiona Hardwick, Lorna Withrington, Finn Poncin, Lizzie Ennever, Prokhor Chekhovskoy, Oliver Böttcher, Łukasz Talik, Samuel Harjanne, Nir Ron, Stan Limburg, Ross Hastings, Mia Kadosh, Petri Hanttu, Simona Pahl, Gadi Levy, Robert Hartshorne, Arlyn Bantog and Tim Bain have all worked on "Fireman Sam".
External Links
Gallery
"Welcome to the Steamworks, my friend!"

This article is a stub. You can help by expanding it.