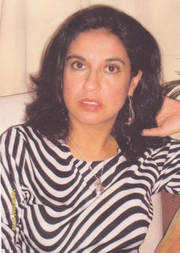 Olga Georgina Hnidey Martínez (born March 7th, 1962) is a Mexican voice actor, teacher and director, awarded in the Chamizal National Memorial Festival in 1985 as the Best Actress.
She usually voices characteristical characters, like old women or adult women. Some of her best known roles include Blackarachnia in "Transformers: Beast Wars", Miriam Pataki from "Hey Arnold!", Mrs. Weebles from "What's With Andy?", Maude Flanders from "The Simpsons", and Professor Poofenplotz from "Phineas and Ferb". 
Voices
Trivia
Both she and Salty's Lighthouse voice actress Venus Terzo voiced Blackarachnia from "Transformers: Beast Wars" in their respective languages.
She, Radovan Vaculík, Ringo Starr, Carlos Enrique Bonilla, Jorge Ornelas, Enzo Avolio, Víctor Delgado, Bohuslav Kalva, Daiki Nakamura, Aku Laitinen, Marjolein Algera, Jukka Voutilaninen, Shinobu Adachi, Pasi Ruohonen, Loretta Santini, Don Nemitz, Bin Shimada, Reinder van der Naalt, Ángel Amorós, Gerardo Reyero, Luis Alfonso Padilla, Octavio Rojas, Louise Raeder, Humberto Vélez, Hadar Shachaf Ma'ayan, Chie Kōjiro, Samuel Harjanne, Keiko Toda, Pierce Brosnan, George Carlin, Alec Baldwin, Nicolás Frías and Kari Tamminen all worked on "The Simpsons".