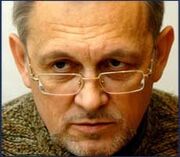 Oleksa Nehrebeckyj (born 30th October 1955 in Gusakova , Cherkasy region) was the translator of Thomas and Friends into Ukrainian. He is a graduate of the Kiev State University. Shevchenko. He has worked as a translator on such films as Teletubbies and Alf and movies such as Happy Feet, Flushed Away, Tale of Despereaux, and Cars.
Ad blocker interference detected!
Wikia is a free-to-use site that makes money from advertising. We have a modified experience for viewers using ad blockers

Wikia is not accessible if you've made further modifications. Remove the custom ad blocker rule(s) and the page will load as expected.