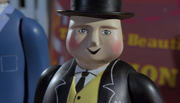 The 
Old Stone Bridge
is a small bridge made out of stone which has a single railway line running below it, a large forest is located nearby.
The bridge appeared in the fifth season episodes, Haunted Henry, Stepney Gets Lost and Busy Going Backwards. In Busy Going Backwards, some workmen were repairing and fixing the bridge when Toad and his runaway trucks crashed into a small pool of water beside the bridge.
Trivia
In Busy Going Backwards, the workmen were shown building a second track runnning underneath the bridge, but in Percy and the Haunted Mine, the bridge only showed one track running underneath the bridge, but in the Learning Segments of the New Series, a second track is seen.
The model of the bridge was recycled as a river bridge in Sir Topham Hatt's Holiday and Duncan and the Old Mine.
Gallery
Ad blocker interference detected!
Wikia is a free-to-use site that makes money from advertising. We have a modified experience for viewers using ad blockers

Wikia is not accessible if you've made further modifications. Remove the custom ad blocker rule(s) and the page will load as expected.