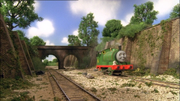 The Old Quarry Bridge is an old stone bridge shaped similarly to a viaduct. It only appeared in the sixth season episodes, A Friend in Need and Jack Jumps In, and the Jack and the Sodor Construction Company episodes, Kelly's Windy Day and Percy Helps Out.
Ned once dislodged an important key stone from the bridge and caused the whole bridge to fall apart. Thomas almost fell off the bridge, but luckily, Jack quickly came under the bridge and held it up with his bucket long enough for Thomas to reverse off the bridge to safety.
Sometime later, the bridge was repaired and two railway lines were running underneath it.
Merchandise
Gallery
Ad blocker interference detected!
Wikia is a free-to-use site that makes money from advertising. We have a modified experience for viewers using ad blockers

Wikia is not accessible if you've made further modifications. Remove the custom ad blocker rule(s) and the page will load as expected.