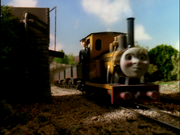 The Old Iron Bridge is a bridge that crosses Cattle Creek between Rheneas and Skarloey on the Skarloey Railway. It only appeared in the fifth season episode, Duncan Gets Spooked and made cameos in seasons five and sixth music videos.
On one occasion, Peter Sam's trucks fell into the ravine when he was having a rest. Duncan thought it was funny, and Rusty told both of them a story about the ghost engine who has haunted the bridge ever since it lost control and fell into a ravine.
Gallery
Ad blocker interference detected!
Wikia is a free-to-use site that makes money from advertising. We have a modified experience for viewers using ad blockers

Wikia is not accessible if you've made further modifications. Remove the custom ad blocker rule(s) and the page will load as expected.