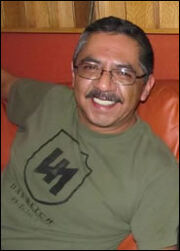 Octavio Rojas (born on December 6th, 1963) is a Mexican voice actor who provides voices in the Latin American narration of Thomas & Friends.
He is best known for voicing Waylon Smithers in "The Simpsons", Lots-O'Huggin'Bear in "Toy Story 3", David Xanatos from "Gargoyles", Lugia from "Pokémon: The Movie 2000", Tim Lockwood from "Cloudy With a Chance of Meatballs", Dr. Drakken from "Kim Possible", Panik from "Yu-Gi-Oh!", Captain Gutt from "Ice Age: Continental Drift", and Lucius Malfoy from the "Harry Potter" films. He is also a regular dubbing voice of Liam Neeson, Wesley Snipes, Russell Crowe, and Chuck Norris.
Voices
Trivia
Both he and Alec Baldwin voiced Makunga from "Madagascar: Escape 2 Africa" in their respective languages.
Both he and Hikaru Midorikawa voiced Silva from "Shaman King" in their respective languages.