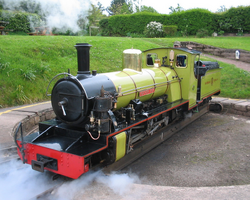 Northern Rock
Number: 10
Builder: R&ER
Built: 1976
Configuration: 2-6-2
Northern Rock is a steam engine working on the Ravenglass and Eskdale Railway.
After undertaking trials with the Romney, Hythe & Dymchurch Railway no. 2, Northern Chief in 1972, the railway company decided to construct a new 2-6-2 locomotive, originally to be named Sir Arthur Heywood. The railway received funding from the Northern Rock building society and so the locomotive was named after her chief sponsor. She entered traffic in 1976 and has visited many railways, as far away as Dresden, Germany, to publicise the railway. Two similar locomotives have been built at Ravenglass for the Shuzenji Romney Railway in Japan, Northern Rock II and Cumbria, in 1989 and 1992, respectively. The livery of the engine is Highland Railway Muscat Green with red and dark green lining.
Jock is based on her, with added round buffers and a six wheel tender instead of eight.
Appearances
Northern Rock was mentioned in The Island of Sodor: Its People, History and Railways. She also appeared in Mr. Perkins' Railways segment about the different gauges of tracks.