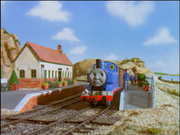 Norramby Church Station is a station that serves a small church in Norramby. It is located on the Norramby Branch Line.
Toby and his driver received the news that they were not going to be in the parade here and Mrs. Kyndley's daughter had her wedding here.
It only appeared in the fourth and fifth seasons and in stock footage in the seventh season.
This station is one of two railway stations in Norramby, the other being Norramby Seaside Station.
Gallery
Ad blocker interference detected!
Wikia is a free-to-use site that makes money from advertising. We have a modified experience for viewers using ad blockers

Wikia is not accessible if you've made further modifications. Remove the custom ad blocker rule(s) and the page will load as expected.