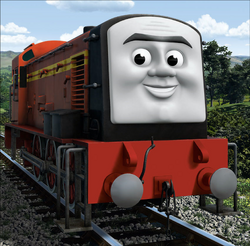 Norman
Designer: Oliver V. S. Bulleid
Builder: Ashford Works
Configuration: 0-6-0
Speed: 36 mph
Built: 1949
Norman, nicknamed Norm, is a Diesel. He has a twin named Dennis.
Bio
Norman was one of the Diesels who took over the Sodor Steamworks. He later laughed at Flynn for not being able to rescue Thomas. Norman told Percy that Sidney had been on his hoist for two years and was there when he was given his new wheels. He also offered Thomas a place to sleep at the Dieselworks when the turntable at Tidmouth Sheds was frozen.
In the eighteenth season, he was at the Dieselworks when Paxton returned after looking for him, Diesel, Sidney, Den and Dart.
Persona
Norman is a Diesel engine who often breaks down. If he were fixed properly, he would show what a Really Useful Engine he is. He wants to be liked by all the engines so he does his part at the Dieselworks and follows all of his orders.
Basis
Norman is based on the Bulleid Diesel prototype, No. 11001. Dennis is also based on this engine.
Livery
Norman is painted rusty red with yellow lining and a grey roof.
Appearances
Specials:
Voice Actors
Trivia
Norman is Dennis' twin. This is thought to be impossible as No. 11001 was the only one of its type built. However, other engines, such as Skarloey/Talyllyn and Rheneas/Dolgoch, share the same dilemma.
Norman is the first character in the series to have a unibrow.
Merchandise
Gallery
Merchandise Gallery