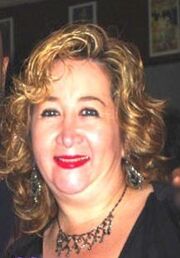 Norma Iturbe is a Mexican voice and theatre actress, who provided voices in the Latin American narration of Thomas & Friends. She appears to have left the voice cast, for Annie is now voiced by Ana Teresa Ávila.
She is best known for voicing Princess Morbucks in "The Powerpuff Girls", Aunt Orange and Teddie Safari from "My Little Pony: Friendship is Magic", Aunt May from "Spider-Man: The Animated Series", Ice Queen from "Adventure Time", Billie from "The Trumpet of the Swan", Zita and young Zim from "Invader Zim", Becky Farrah from "Gunsmith Cats" and Aunt Petunia Dursley in the "Harry Potter" films.
She is married to Herman López.
Voices
Trivia
Both she and Krystyna Kozanecka voiced Princess Morbucks from "The Powerpuff Girls" in their respective languages. They both also voiced Annie.
Ad blocker interference detected!
Wikia is a free-to-use site that makes money from advertising. We have a modified experience for viewers using ad blockers

Wikia is not accessible if you've made further modifications. Remove the custom ad blocker rule(s) and the page will load as expected.