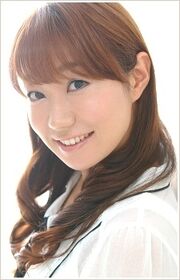 Noriko Shitaya (下屋則子, born on April 22nd, 1982 in Chiba) is a Japanese voice actress and singer who provides voices for the Japanese version of Thomas & Friends.
She is most famous for voicing Ururu Tsumugiya from "Bleach", Emmy from "Dragon Tales", Moegi from "Naruto", Maria, Rydia and Althea Sol Alfitaria from the "Final Fantasy" series, Gym Leader Candice from "Pokémon", Haruko Amaya from "Maken-ki!", and Sakura Matou from "Fate".
Voices
Trivia
She took over the role of Leliah from "Tales of Zestiria the X" following Miyu Matsuki's death.
Both she and Mayra Arellano voiced Emmy from "Dragon Tales" in their respective languages.
External link