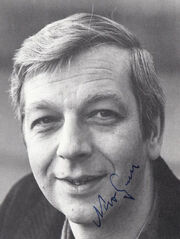 Norbert Gescher (born December 14th, 1939) is a German actor.
He is well known for being the German voiceover of Steve Martin, Richard Dreyfuss, and Beau Bridges. He is also known for voicing Ki-Adi-Mundi from the "Star Wars" series, Spock from "Star Trek", Professor Membrane from "Invader Zim", and Yahoot from "Megaman NT Warrior".
Voices
Trivia
Both he and John Hurt voiced Hazel from the 1978 "Watership Down" film in their respective languages.