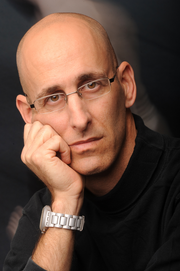 Nir Ron (Hebrew: ניר רון, born March 6th, 1964) is an Israeli actor who provides voices in the Hebrew narration of Thomas and Friends.
He is best known for voicing Al Dente from "Samurai Pizza Cats", Mr. Grumpy from "The Mr. Men Show", Sam from "Fireman Sam", Ralph from "Wreck-it Ralph", various characters from "Digimon", Gym Leader Juan from "Pokémon", Kai from "Frozen", Scourge from "Transformers: Cybertron" and "Transformers: Robots in Disguise", Stimpy from "The Ren & Stimpy Show", Clark Kent from "Superman: The Animated Series", Quasimodo from "The Hunchback of Notre Dame" and the male voice trumpets from the 2015 reboot of "Teletubbies".
Voices
Trivia
External links
Ad blocker interference detected!
Wikia is a free-to-use site that makes money from advertising. We have a modified experience for viewers using ad blockers

Wikia is not accessible if you've made further modifications. Remove the custom ad blocker rule(s) and the page will load as expected.