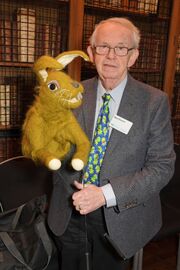 Nigel Plaskitt (born 27 July 1950) is a British actor, voice actor, director, and puppeteer. He has worked on numerous television shows, films, and adverts over the years including "The Muppets", "Mopatop's Shop", "Captain Scarlet", "Doctor Who", and "Spitting Image". He is perhaps best known for playing the PG Tips' Monkey.
In Thomas and Friends, he provides the narration for the Reverend W. Awdry's letter to Christopher which can be seen at the beginning of some UK and US television broadcasts as well as some US DVDs.
Trivia
Both he and TUGS voice actor Timothy Bateson appeared in the "Doctor Who" serial "The Ribos Operation". Olivia Colman, John Hurt, Kerry Shale, Glenn Wrage, Michael Brandon, Tom Stourton, Martin Sherman, Simon Fisher-Becker, Miranda Raison, John Schwab, John Ogwen and Tracy-Ann Oberman have all had roles in other episodes of it. Togo Igawa also had a role in one of it's spin-offs "Torchwood". Maggie Ollerenshaw and Jonathan Forbes also worked on an audio drama based on "Doctor Who". Diego Brizzi, Tesshō Genda and Dariusz Odija also did dubbings for the show.
Both he and Jules de Jongh voiced characters from "New Captain Scarlet".
Both he and Jonathan Broadbent had roles in the 1999 television film "Alice in Wonderland".
External Link
Ad blocker interference detected!
Wikia is a free-to-use site that makes money from advertising. We have a modified experience for viewers using ad blockers

Wikia is not accessible if you've made further modifications. Remove the custom ad blocker rule(s) and the page will load as expected.