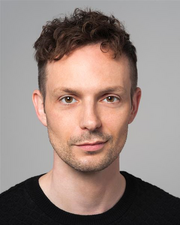 Nigel Pilkington (born in Lancashire, England, UK, November 28th, 1975) is a British actor, voice actor, comedian, screenwriter and former lawyer who took over the role of Percy from Keith Wickham in the UK dub of Thomas & Friends.
He has appeared in various shows such as "Grandpa in my Pocket", "The Slammer" and "Richard Hammond's Secret Service". Voice-over roles include "Peter Rabbit", "The Adventures of Bottletop Bill" and "The Jungle Book".
Voices
UK
UK/US
Songs
Filmography
Films

The Brothers Grimm (2005)
Wallace & Gromit: The Curse of the Were-Rabbit (2005)
Azur & Asmar: The Princes' Quest (2006)
Casino Royale (2006)
Nobody's Perfect (2007)
A Room with a View (2007)
The Commander: Abduction (2008)
Awaydays (2009)
Cold Warrior (2012)
Thinking Inside the Box (2012)
The Jungle Book: Return 2 the Jungle (2013)
Lonely Hearts (2013)
That's the Spirit (2014)
Sparks and Embers (2015)
The Jungle Book: Howl at the Moon (2015)

Television

Cutting It (2004)
The Adventures of Bottle Top Bill (2005)
Trial & Retribution (2008)
Burn Up (2008)
Roman Mysteries (2008)
The Tudors (2009)
The Jungle Book (2010-present)
Peter Rabbit (2012-2015)
Richard Hammond's Secret Service (2013)
Teenage Fairytale Dropouts (2013-2014)
Grandpa in My Pocket (2014)
Thomas & Friends (2015-present)
Lexi & Lottie: Trusty Twin Detectives (2016)

Games

The Last Story (2011)
Inazuma Eleven Strikers (2011)
Ni No Kuni: Wrath of the White Witch (2011)
Final Fantasy XIV: Stormblood (2017)
Trivia
External Links
Ad blocker interference detected!
Wikia is a free-to-use site that makes money from advertising. We have a modified experience for viewers using ad blockers

Wikia is not accessible if you've made further modifications. Remove the custom ad blocker rule(s) and the page will load as expected.