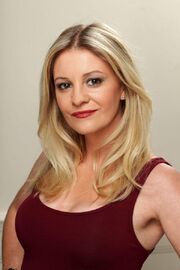 Nicola Stapleton (born on August 9th, 1974 in Elephant and Castle, London, England) is a British actress and voice actress. She is most known for her role on "EastEnders" from 1992–1994 and from 2011–2012 as Mandy Salter. She joined the Thomas & Friends voice cast in Journey Beyond Sodor.
Voices
UK/US
Rosie (twenty-first season onwards)
Filmography
Films

Octopussy (1983)
Hansel and Gretel (1987)
Snow White (1983)
Courage Mountain (1990)
Urban Ghost Story (1998)
Ladies & Gentlemen (1998)
The Killing Zone (1999)
Dead on Time (1999)
It Was an Accident (2000)
Chunky Monkey (2001)
Goodbye Charlie Bright (2001)
Lava (2001)
South West 9 (2001)
The Commander: The Devil You Know (2007)
The Magic Hour (2009)
Hands Solo (2009)
Postcode (2011)
Bypass (2014)
The Pub (2015)
Blood and Carpet (2015)
The Rise of the Krays (2015)
The Fall of the Krays (2016)
Dusty and Me (2017)
For the Love of Ella (2017)

Television

Dempsey and Makepeace (1985)
Simon and the Witch (1987-1988)
Hannay (1988)
All in Good Faith (1988)
The Bill (1991-2010)
EastEnders (1992-2012)
Doctor Who: Dimensions in Time (1993)
A Fistful of Fingers (1995)
The Thin Blue Line (1995)
Harry Enfield and Chums (1997)
The Young Person's Guide to Becoming a Rock Star (1998)
Casualty (1999-2004)
Audrey and Friends (2000)
Secret History (2003)
Gaby & the Girls (2004)
Holby City (2004)
Bad Girls (2005-2006)
Jane Hall (2006)
The Last Enemy (2008)
Emmerdale (2008-2009)
Hollyoaks Later (2009)
Obsession: Dark Desires (2017)
White Gold (2017)
Thomas & Friends (2017-present)

Games

Assassin's Creed: Syndicate (2015)
Assassin's Creed: Syndicate - Jack the Ripper (2015)
Trivia
She, Jonathan Broadbent, Tracy-Ann Oberman, Sophie Colquhoun, Colin McFarlane and Hugh Bonneville have all worked on "EastEnders".
She, Mark Moraghan, Robert Wilfort, Clive Mantle, David Bedella, Andrew Sachs and Colin McFarlane have all worked on "Holby City".
She, Pierce Brosnan and Hugh Bonneville have all appeared in the "James Bond" film series. Additionally, she was in "Octopussy", the same film César Soto dubbed over.
External Link
Ad blocker interference detected!
Wikia is a free-to-use site that makes money from advertising. We have a modified experience for viewers using ad blockers

Wikia is not accessible if you've made further modifications. Remove the custom ad blocker rule(s) and the page will load as expected.