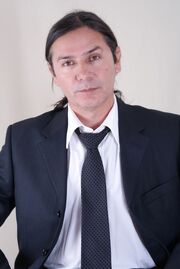 Nicolás Frías (born on July 8, 1963) is an Argentinan-born Mexican voice actor who provides voices in the Latin American dub of Thomas & Friends.
He is better knwon for being the voice of Chet in Turbo, Lucky in The Nut Job, and Professor Frink in The Simpsons.
Voices
Trivia
He, Keiko Toda, Radovan Vaculík, Ringo Starr, Carlos Enrique Bonilla, Jorge Ornelas, Enzo Avolio, Víctor Delgado, Bohuslav Kalva, Daiki Nakamura, Aku Laitinen, Marjolein Algera, Jukka Voutilaninen, Shinobu Adachi, Pasi Ruohonen, Loretta Santini, Olga Hnidey, Don Nemitz, Bin Shimada, Reinder van der Naalt, Ángel Amorós, Gerardo Reyero, Luis Alfonso Padilla, Octavio Rojas, Louise Raeder, Humberto Vélez, Hadar Shachaf Ma'ayan, Samuel Harjanne, Pierce Brosnan, George Carlin, Alec Baldwin and Kari Tamminen all worked on "The Simpsons".
"Welcome to the Steamworks, my friend!"

This article is a stub. You can help by expanding it.