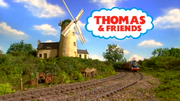 The new series is a term used for the HiT Entertainment produced seasons of Thomas and Friends. Season 8 introduced many new changes to the series: the new title sequence features a new theme tune based on the song Engine Rollcall; the series features newer models with different paintwork, new facial expressions and more dynamic camera work; the episodes are now longer, being seven and a half minutes long; and the series, when aired on television, is often split into thirty-minute blocks with three episodes, educational puzzles and songs and "Engine Rollcall" played at the end.
It was narrated by Michael Angelis in the UK and Michael Brandon in the US. Pierce Brosnan briefly took over the mantle in 2008 narrating The Great Discovery.
The new series is a big change from the classic series and often includes recycled plots, such as Henry again requiring "special coal", and the engines appearing to possess the ability to move without a crew. The series also introduces more female characters, which the "classic series" was criticised for the lack thereof.
Starting with season 12, CGI elements were added to the "new series" in the forms of people, animals, Harold, and the engine's faces. Starting with Season 13 the series was rendered in CGI completely.
Seasons