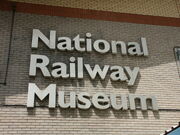 The National Railway Museum is a museum in York forming part of the British National Museum of Science and Industry. It tells the story of rail transport in Britain and its impact on society. It is said to be the largest railway museum in the world and is home to several famous locomotives. The Shildon Locomotion Museum is a branch of the NRM.
In The Railway Series, it appeared in Thomas and the Great Railway Show.
In 2013, due to government cutbacks, the Museum was in threat of closure along with the Museum of Science and Industry in Manchester and the National Media Museum in Bradford, though after a successful petition, the museum now remains open.
Locomotive collection
Other engines at the museum include members of Henry, Diesel, Daisy, Old Stuck-Up, Class 40, Emily, Murdoch, Mighty Mac, Neville, Whiff, Stafford, Den, Earnest, Merlin, Rebecca and Hector's classes.
External links