Nancy and Violet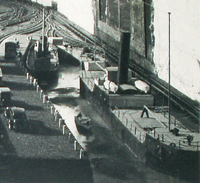 Nancy and Violet were two cargo ships featured on the Reverend W. Awdry's layout of Tidmouth-Knapford.
Bio
Nancy and Violet regularly delivered coal and machinery to Tidmouth Harbour for the North Western Railway. They also brought fish, which was loaded onto The Flying Kipper.
Trivia
Nancy and Violet were built by Wilbert Awdry's brother, George Awdry.
They never appeared in any of the Railway Series stories, but were in Awdry's model railway scrapbook, as part of the Awdry Study at Narrow Gauge Railway Museum in Tywyn.
External Links
Ad blocker interference detected!
Wikia is a free-to-use site that makes money from advertising. We have a modified experience for viewers using ad blockers

Wikia is not accessible if you've made further modifications. Remove the custom ad blocker rule(s) and the page will load as expected.