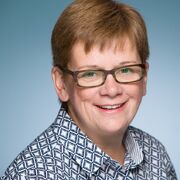 Nancy Chapelle is an award-winning film and television producer who was an executive producer for Thomas and the Magic Railroad. She was also a producer for Shining Time Station and Mr. Conductor's Thomas Tales.
She also co-founded and served as President, Senior Vice President and Chief Operating Officer for Catalyst Entertainment, which co-produced Shining Time Station with The Britt Allcroft Company and Quality Family Entertainment.
External Links
Shining Time Station Wiki
Please visit the Shining Time Station wiki, based on the spin-off series of Thomas and Friends.