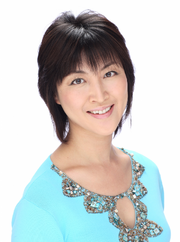 Nanaho Katsuragi (born December 20, 1966 in Nagoya) is a Japanese voice actress who provided voices in the Japanese version of Thomas and Friends.
She is best known for voicing Setsuka from "Soul Calibur", Sakura from "Broken Blade", Abigail "Abby" Sciuto from "NCIS", Kyouichi Saionji from "Shoujo Kakumei Utena", Kudamon from "Digimon", Sakura from "Broken Blade", Ellie Leonard from "Desperate Housewives", Dr. Abby Lockhart from "ER", and Chigusa Amagasaki from "Negima".
Voices
Trivia
She, Adriana Casas, José Luis Rivera, Cody McMains and Blanche Ravalec all worked on "Desperate Housewives".
She, Nobuaki Kanemitsu, Ángel Amorós, Roberto Mendiola, Lupita Leal, Héctor Moreno, Jorge Teixeira, Yasuhiro Takato, Fabrice Trojani, Ewa Serwa, Gerald Schaale, Tony Marot, José Arenas, Ricardo Silva, Yasunori Masutani, Taisto Oksanen, Taisuke Yamamoto, Ambrogio Colombo, Satoshi Taki, Yehonatan Magon, Masaharu Satō, Nir Ron, Gerardo Reyero, Junko Noda, Houko Kuwashima, Marie-Luise Schramm, Mireya Mendoza, Igor Cruz, Benjamín Rivera, Arturo Mercado Jr., Pedro D'Aguillón Jr., Tom Deininger, Hiroaki Hirata, Óscar Flores, Irwin Daayán, Yoram Yosefsberg, Carlos Hernández, Chie Kōjiro, Agnieszka Kunikowska, Manuel Campuzano, Dor Srugo, Bin Shimada and Talya Barkay have all worked on "Digimon".
External links
"Welcome to the Steamworks, my friend!"

This article is a stub. You can help by expanding it.
Ad blocker interference detected!
Wikia is a free-to-use site that makes money from advertising. We have a modified experience for viewers using ad blockers

Wikia is not accessible if you've made further modifications. Remove the custom ad blocker rule(s) and the page will load as expected.