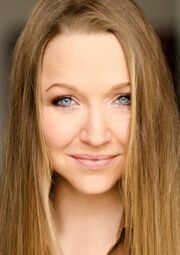 Nadine Schreier (born 20 July 1982) is a German actress and singer who voices characters in the German dub of Thomas and Friends.
She is most famous for her roles as Evie from "Mike the Knight", Eruka Frog from "Soul Eater", Pakura from "Naruto: Shippuden", Tina from "Chuggington", and Diane from "Seven Deadly Sins". Other dubbing credits include "Sesame Street", "Dinopaws", and "Bob's Burgers".
Voices
External link
Ad blocker interference detected!
Wikia is a free-to-use site that makes money from advertising. We have a modified experience for viewers using ad blockers

Wikia is not accessible if you've made further modifications. Remove the custom ad blocker rule(s) and the page will load as expected.