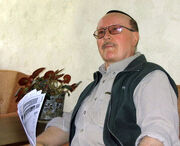 Mykola Koziy (born 1941) narrated Season 1-4 and Season 17 onward of Thomas and Friends in Ukraine.
He is best know in Ukraine for dubbing over such shows as Alf, Columbo, Transformers and a few movies such as Noah's Ark, The King's Speech, Titanic, Barnyard and Charlotte's Web. He also recorded the first Ukrainian Bible back in 2007.
Trivia
Ad blocker interference detected!
Wikia is a free-to-use site that makes money from advertising. We have a modified experience for viewers using ad blockers

Wikia is not accessible if you've made further modifications. Remove the custom ad blocker rule(s) and the page will load as expected.