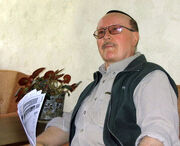 Mykola Koziy (born 1941) narrated Season 1-4 and Season 17 onward of Thomas & Friends in Ukraine.
He is best know in Ukraine for dubbing over such shows as ALF, Columbo, Transformers and a few movies such as Noah's Ark, The King's Speech, Titanic, Barnyard and Charlotte's Web. He also recorded the first Ukrainian Bible back in 2007.
Trivia
"Welcome to the Steamworks, my friend!"

This article is a stub. You can help by expanding it.