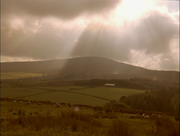 Muffle Mountain is where Burnett Stone lives and where he hid Lady from harm.
The mountain is located some distance from Shining Time and the Indian Valley and according to the 1999 script, it muffles all train whistle sounds coming from the valley, which is the reason Burnett moved to the mountain.
Trivia
The Muffle Mountain scenes were filmed on Dalby Mountain in the Isle of Man.
Burnett Stone's workshop for Lady is located inside the mountain.
P.T. Boomer tried blasting into the mountain to find Lady in the original cut of Thomas and the Magic Railroad.
Merchandise
Gallery