Mr. Percival
Comment

1
5,783pages on
this wiki
"You have caused delay and confusion!"
— Mr. Percival, Duncan's Bluff, tenth season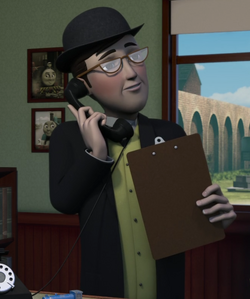 Mr. Peregrine Percival, "the Thin Controller"
Mr. Peregrine Percival, also called the "Thin Controller" ("Narrow-Gauge Controller" in the US), is the current manager of the Skarloey and Culdee Fell Railways in the television series. In the magazines, he also runs a Cable Railway.
Bio
Mr. Percival was hired sometime between the events of the seventh and ninth seasons to help Sir Topham Hatt manage the ever-increasing size of the railway industry on the Island of Sodor.
Mr. Percival has had five children with his wife.
He was one of the important visitors who attended Dowager Hatt's special tour of Sodor and then a party at Knapford. He later charged Peter Sam with the running of the Skarloey Railway whilst he attended a meeting with Sir Topham Hatt, and welcomed Luke to his Railway.
In the eighteenth season he scolded Duncan and he and Victor made a bet with Duncan.
Appearances
Voice Actors
Trivia
Mr. Percival's hero is Sir Topham Hatt.
Mr. Percival has five children named Peter, Paul, Patrick, Pansy, and Penny.
Mr. Percival hates cars, which explains his signature bicycle. Oddly, his Take-Along and Take-n-Play models feature him inside a red car.
Between the ninth season and The Great Discovery, the top of Mr. Percival's was bald. However since the twelfth season, he has had a full head of hair.
Mr. Percival is often accompanied by a workmen holding his bicycle.
Merchandise
Gallery